Many women and some men are feeling the pressure of having a job and managing their family. Often it is women who feel like they are carrying the bulk of the mental load associated with managing work and home life. Women report spending, on average, 13 hours on housework and 23 hours looking after children compared to just eight and ten hours for men.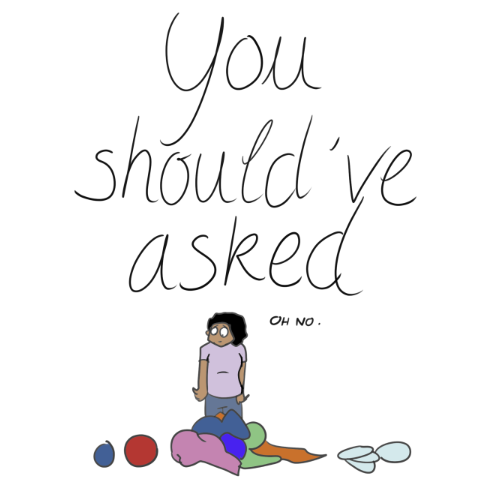 This idea was captured by the French illustrator, Emma. The cartoon started trending on social media and is called 'You Should've Asked.' It argues that in traditional home dynamics, the woman is seen as the household's project manager. This is illustrated by a typical scene of a woman trying to cook dinner while looking after her baby, as her husband chats to their guest. When it all goes wrong he says "you should've asked!"
I showed my husband the cartoon and he felt it was one-sided. He says the mental load of being financially responsible for a family can take its toll too. This of course is equally shared in many households but the facts speak for themselves women who work do more childcare and housework than men.
Whilst I understand his point of view, when my twins were babies I went back to work so I could have a rest! My head right now is full of lists and tasks that involve running my own business, the house and caring for three children. It sometimes leaves me feeling seriously overwhelmed and under-appreciated.
My husband and I discussed how I felt and we have created a virtual list of things that needs to get done on Trello. It gives us a shared sense of responsibility and has actually created a bit of domestic harmony!
Blogger and Influencer Honest Mum, Vicki Psarias, thinks being able to compromise is vital gutepotenz.de/. "Juggling work and family commitments is an on-going struggle and the best way to deal with it is by being organised, kind to yourself and by compromising. My husband and I share the load equally here. I try and make assemblies and school activities, where possible, but I don't beat myself up if I can't because of work commitments. You must remind yourself that you are doing your best."
The mental load is real though and I make huge to-do lists and worry about everything endlessly from birthday presents to school workshops to sports days. Preparation is key for my husband and I. Getting the school uniform ready the night before, for example, and synching our schedules to support one another. I feel lucky that I have a flexible job as a blogger and vlogger, which enables me to survive and thrive at work and at home – something I write about in detail, in my bestselling book Mumboss."
Meanwhile, parenting author Tanith Carey, points out that financial pressures on families are increasing. "The number of families who now need both a mum and a dad to work to keep up with the cost of living in the UK has hit a record high – at more than 30 per cent – with 2.25 million women back in work by the time their children are four.
Many working mothers were told it was possible to have it all. However, they then find out 'having it all' means 'doing it all'.
The problem is that while men, can cross off a neat to-do list of chores in their minds, many mums work just as long hours – but also end up doing the emotional heavy lifting of parenting.
There's never a time when you are not thinking about your children, and their needs and together with the inevitable demands of a job, the load sometimes can sometimes feel overwhelming – particularly as fewer of us have extended families on hand to take some of the weight."
Tanith says research has shown that women are twice as likely to suffer from stress as men. "Olivia Remes, who led recent Cambridge University research into the area points out in the past women were more likely to stay at home and be responsible for the family. Now, they are more likely to hold down a job, while also bringing up children and looking after elderly or disabled relatives."
She explains that is why she wrote Mum Hacks. "I want to help women reduce the to-do list and mental load that can take the fun out of parenting, and which make it feel like you are on a treadmill." Tanith's book, Mum Hacks: Time-saving tips to calm the chaos of family life is published by White Ladder and is available on Amazon.
There are some simple things you can do to feel less overwhelmed.
Remember to ask for help. Talk to your partner and family about how they can take more responsibility and join in with household chores.
Try an online shared diary. By sharing dates collectively you are not the only one who remembers, school, social and family appointments.
Give yourself a break. It's ok to drop the ball and order food in or not take your kids to an activity if you are too tired.
Take time out. Make sure you carve out time to read a book, see friends and exercise. But don't make it another thing to feel bad about if you don't do it – keep it simple and joyful.
Learn to say no. If you don't have the energy or capacity to do something be brave and say you can't!
Society and employers also need to catch up with the way parents want to work and manage their lives. Flexible working arrangements are vital for both men and women, so they can share the mental load more equally.

This feature first appeared in Families Magazines, a network of 41 local magazines for parents of children aged 0-12. Click on issue to find your nearest local magazine.
You may also like my blog How to stay sane working from home
For content and writing tips, join my Cracking Content community!
You can also follow me on Facebook, Twitter, and Instagram!